Cairns Water Adventures & Rafting
Are you a water baby? There's lots of activities in Cairns that are perfect for you! You'll find the great Cairns Lagoon that offers safe all year swimming, islands with snorkeling, water sports galore and long stretches of beach that are great for a quick dip. There are also a number of water adventures for you to jump into.
White water rafting is a pretty thrilling adventure and to be able to get the opportunity to do it in such great surrounds is amazing. Choose to spend a full day white water rafting down the Tully River which will take you down rapids of up to grade 4 and through World Heritage Rainforest. You can also discover the Barron River on a half day adventure which is located just 20 minutes outside of Cairns. It's the perfect water experience for thrill seekers!
White Water River Rafting and Tubing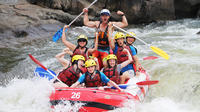 Enjoy an outdoor adventure in Queensland with a 2-hour white-water rafting tour in Barron Gorge National Park. This experience is a suitable introduction to river rafting for first-timers, providing an exhilarating time with a rafting guide. Take in rainforest views along the Barron River as you navigate rapids up to grade III. When booking, you have the option to include pickup in Cairns and the Northern Beaches or Port Douglas, or drive yourself to the starting point.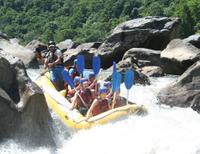 Seeking a white water rafting adventure? The Barron River, 20-minutes north of Cairns, offers spectacular scenery including the Barron Falls on this two-hour white water rafting tour from Cairns.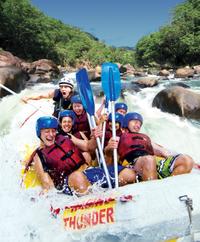 Want to go white water rafting on your vacation to Tropical North Queensland? Go rafting on the the Tully River on this action packed full-day white water rafting adventure from Cairns! The Tully River rafting adventure, one of Australia's most popular rafting excursions, winds through World Heritage Rainforest and offers rapids up to grade 4.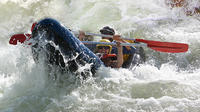 Take a paddle on the Tully River in your own sports raft for an unforgettable experience of fun, adrenalin and laughter. Navigate through the stunning Tully River fringed by the oldest rainforests in the world and emerge as a victorious 'White Water Warrior' with memories to last a life time. Rafting grade 2 and 3 rapid is the most fun you will have in one of the most beautiful places in the world.  Be prepared to get wet! Choose from a half or full day tours are available. Pickup and drop off from either Mission Beach or Cairns is included.
The only way to experience pristine rainforest, crystal clear rivers and breathtaking scenery is to take a white water rafting trip on the Russell River - just a short distance away from both Port Douglas and Cairns. This is not a trip for your average couch potato! There is nothing else like this in Australia. It is affordable, nail biting and exhilarating! With rapids ranging from grade 1 to 4, there is something for everyone on this river.